Interview with Katie Zaber, Author of the Dalya series!
Today I have a brief interview with Katie Zaber, the author of the Dalya series. Learn more about her and her books!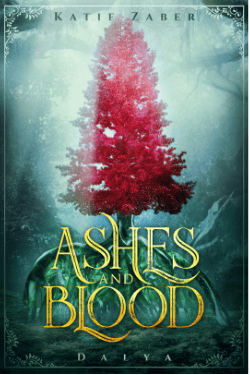 You can travel the same path countless times, but it can sometimes lead to another realm.
A mystical tree captures the attention of Megan and her friends, morphing the surrounding environment, transferring them to an exotic planet with bloodthirsty creatures. Saved from the deadly beasts by hunters, Megan finds herself stuck in a rural town still maimed by the plague. A chance encounter with a familiar face gives Megan and her friends some security during their adjustment to this new world. While settling into promising lives, they are attacked and stalked by planet Dalya's humanoid inhabitants, who focus solely on Megan.
One dark night, after a magical attack, the Fae King's knight is sent to fetch Megan for a reason she can't possibly guess. When she wakes up a prisoner, she learns that there is much more to this strange place, and it is oddly more like home than she ever would have expected.
The more Megan learns about the strange world of Dalya, the more she realizes that finding a way home is insignificant compared to everything else at stake.
Check out Ashes & Blood on Amazon for $0.99 or free with Kindle Unlimited!
 The Interview!
How would someone close to you describe you?
I think the best way to describe myself would be a chaotic, imaginative, descriptive, passionate person who loves to explore as much as staying home, sipping sweet wine and eating delicious foods.
How do you personally measure success as an author?
In increments. At first, I was proud to have a finished manuscript. Then I was thrilled to be working with an editor and cover designer. Every step of the way there has been an enormous accomplishment and the fact that I have fans is insane. The fact that I have reviews is mind boggling. End goal is to make this a full-time gig, and it's amazing when I can see my hard work getting me one step closer. Every time I take another step forward, I celebrate.
How would you describe your writing style?
Personal. I want readers to see through my character's eyes, get stuck inside their head and feel the pivotal moments as if they are happening to them.
How do you think being an author has changed you?
I no longer know what time it is or day… it's all a blur. I have also been late to events or forgot to go because I was in the zone. So, I'm finding I'm more apologetic.
Thankfully, my family and friends understand and support me.
If you could have dinner with one author (living or dead), who would it be?
Oh, that's a hard one.
I'd want to yell at George R. R. Martin and demand he finish the series. Fans have been waiting long enough! But I can't imagine it would be the most pleasant conversation.
Tell me about yourself. What inspired you to write?
I've always been creative, but never took up writing until I was recovering from surgery, was on a lot of meds, and let my imagination loose. Once off the meds and healed, I edited the story, building and rearranging, working through drafts until I was happy.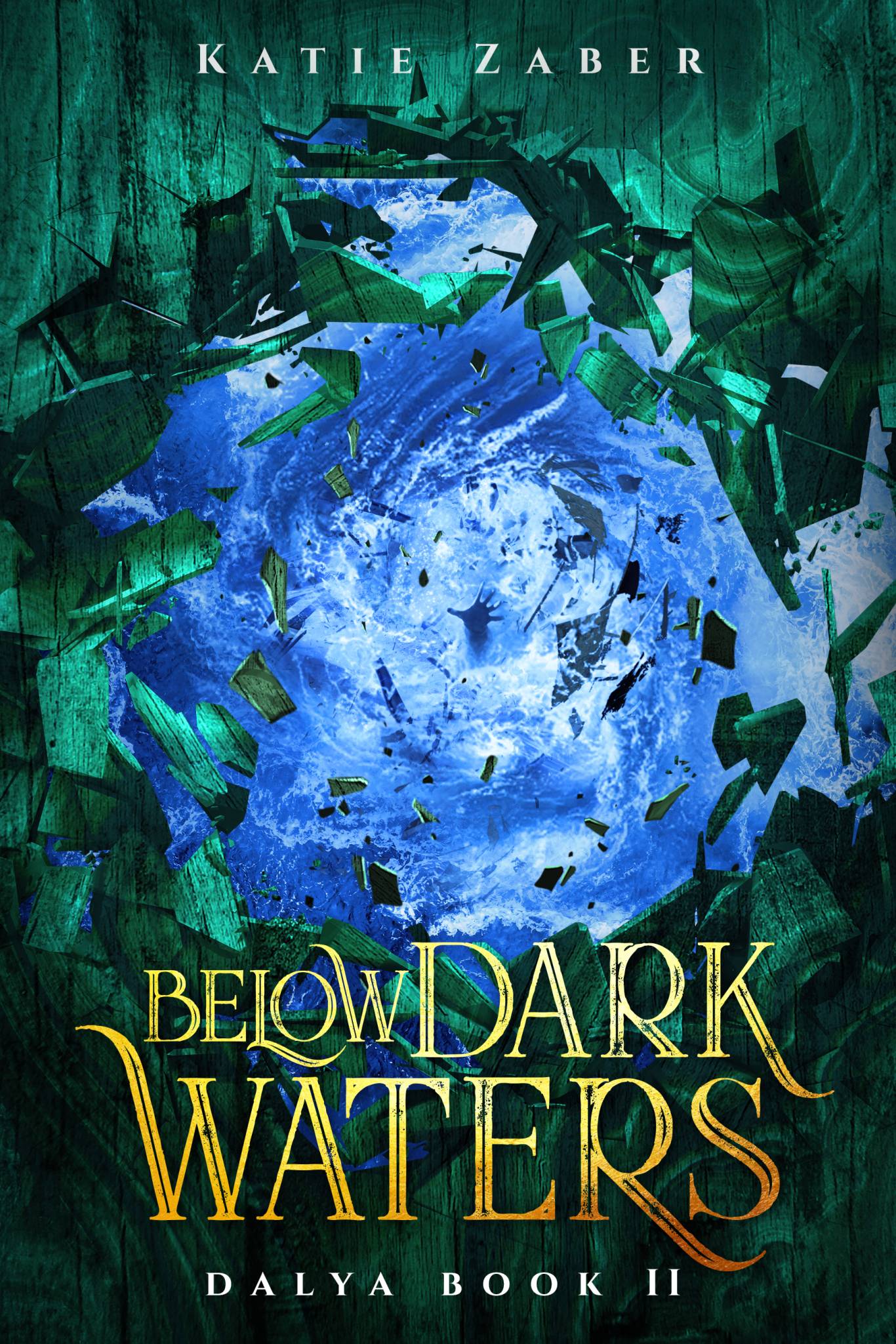 Describe your desk / writing space.
I sit in front of a walnut stained secretary desk with a hutch holding an array of keepsakes. Albums, picture frames, my Snoopy collection, souvenirs, and nostalgic knickknacks line the shelves of the hutch.
My work space is a wonderland of post-it notes in three different colors: pink, neon- yellow, and green. On the right corner of my desk, shoved between the monitor and notary stamp, is a yellow, mini-spiral notebook that contains book outlines, plots, and ideas. Little sticker tabs separate the notebook into different sections. The tabs not in use are floating on the surface of pamphlets and lists of login information to accounts I hardly visit.
A leather bounded diary with nautical embellishments, complete with anchor bookmark, holds random thoughts and sketches. A mechanical pencil can be spotted, hiding between the yellow notebook and leather diary. Its extra parts—erasers & extra graphite are strewn about the entire desk.
Between the post-it notes there are three hacky sacks. There's also a rectangular leather box with a brass kaleidoscope made to look like it was used on a whimsical pirate ship.
It's a happy mess.
How do you come up with the title to your books?
When I write a book, I usually have a broad idea of what I want to call it, but I usually decide when I've finished the first draft. Almost like a parent meeting their new born.
They might have an idea of what they want to name the child while pregnant, but that can change when they see the baby face to face and realize he isn't a Jim, he's a Stephen.
Kind of like that.
What was the hardest scene for you to write? Which scene was your favorite to write?
Intimate scenes. They are my weak spot. I feel like I can never get them exactly right.
My favorite ones are when I'm describing something for the first time. When I introduce the reader to a new environment, object, or food, my goal is for the reader to feel the mist and sun on their skin. I want them to see in minute details what the character is looking at and taste the juice running down their cheeks as character bites into fruit.
What inspired your book/series?
The song, Lord of the Dance. Somehow, it was stuck in my head and my imagination took over. I pictured a king singing the song—a much more sinister version—while destroying a village of people who disobeyed him. At first, the story was going to be about him and how his reign ends, but I didn't want to tell it from his perspective. That's where Megan comes in.
What are you working on next?
Right now I'm finishing up DNA—Demons N Angels, a book about a woman named Evie who mysteriously gets pregnant. After a DNA test proves that her husband is not the father, her life becomes complicated.
People become possessed around Evie, telling her to kill the baby or protect it at all costs as she tries to rebuild her life after a heartbreaking divorce. Throughout the book, she realizes that her child might be a celestial being, but isn't sure if it's angelic or demonic.
It's almost done, and I hope to have it on sale by summer.
I'm also working on the third book in the Dalya series, title is undecided. It's roughly 20,000 words, and I hope to have it out this fall.
If you could live anywhere, in this world or fantasy, where would you live?
I'd love to live on a winery in southern Italy. The architecture is breath-taking and I love the small villages with cobblestone streets, knowing your local artisans by name and buying locally from them. There's something really romantic and peaceful about that small village lifestyle that I hope to one day experience.
If I got to live in a fantasy world, it would be made of chocolate and it wouldn't be frowned upon if I ate everything.
More About Katie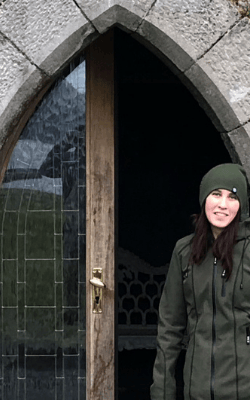 Katie Zaber knows the best way to decide who is cooking dinner is with a Nerf gun fight in the living room. Her boyfriend is an exceptional cook. When she isn't baking, reading, or going to wine tastings, she's busy planning her next trip to Six Flags Great Adventure or Long Beach Island, New Jersey. As a child, her mother would read stories about Atlantis and other fictional places that she dreamed of exploring, fueling her love of history, adventure, and fantasy. These days, she finds herself captivated by her many projects and enjoys quiet nights at home.
Check out Ashes and Blood and Below Dark Waters or follow Katie on Amazon, Goodreads, and Bookbub and on her site!
Thanks for reading, I hope you decide to check out her series!
—Erynn